D.H. Productions Lehigh Valley's wedding & party djs for all occasions
Lehigh Valley 5 Star wedding party DJ entertainment service with over 30 years entertaining life's special occasions from a basic dj to Radio, TV and professional dj entertainers with music and audience diversity. For examples, follow these links for more information on: Christenings djs, school dances dj, sweet 16s dj, graduation djs, college date party djs, wedding dj, family reunion djs, retirements, and the young age of 90+ birthday celebrations. A list of events we do can be found here.

We use professional audio equipment, various professional light shows and cool lighting enhancements. See Highlights!

We always play age appropriate songs and requests you want to hear and more. Thousands of digital music tracks for endless Oh! WOW! Party songs to choose directly from our enormous legally purchased music data base or our massive music library of compiled requests which contains a wide variety of musical genres.
PLUS! Games, contests and prizes for kids and adults, Fun Photo Studio Photo Booth, Dance Dance Revolution (DDR), video projection, and LED video screens for movie nights, DJ gear if you wannabe a DJ, audio equipment for corporate seminars and events available.

Our dj service is fully insured and we can provide proof of insurance with an insurance certificate sent directly to your venue if needed for your convenience.

Each and every event is personal to YOU, your family, friends and other guests with prices starting as low as $299.00! Have a look around our site it contains a wealth of event, party, and wedding planning tips. Remember, planning a special event details are important, so let us help you, contact us for a free, no obligation consultation today.

Question? Did you search: wedding djs near me, party djs near me, wedding & party dj philadelphia, wedding dj prices, how much for a DJ, party & wedding dj prices lehigh valley pa, wedding dj near me, wedding dj dance songs, wedding dj entertainment, lehigh valley wedding dj? Just remember, D.H. Productions dj's near Allentown, Bethlehem, Easton PA in the Lehigh Valley area, the icon of DJ's in the area offers the best & affordable Lehigh Valley PA djs & photo booths throughout stroudsburg pa, to poconos pa, to lehigh valley wedding dj reviews or pa dj reviews.

Check our Highlight Reel here & DJ reviews here & contact us for a no obligation phone consultation today.


D.H. Productions DJs For All Occasions
Your DJ Connection

D.H. Productions Lehigh Valley, Pocono, Philadelphia, New Jersey DJs For All Occasions
** SERVICE AREAS **
D.H. Productions your DJ connection in Bethlehem PA, Bethlehem Township PA, Allentown PA, Easton PA, Hanover Township PA, Hellertown PA, Kutztown PA, Lower Macungie Township PA, Lower Milford Township PA, Lower Saucon Township, Macungie Township PA, Nazareth PA, New Tripoli PA, North Whitehall Township PA, Palmer, Palmer Township PA, Quakertown PA, Salisbury Township PA, South Whitehall Township PA, Upper Macungie Township PA, Upper Saucon Township PA, Washington Township PA, Whitehall, Whitehall Township Pennsylvania.
Our party and wedding DJs entertain in communities of the Lehigh Valley PA: Catasauqua PA, Cementon PA, Center Valley PA, Cherryville PA, Coplay PA, Emerald PA, Emmaus PA, Freemansburg PA, Fogelsville PA, Fountain Hill PA, Forks PA, Germansville PA, Ironton PA, Kuhnsville PA, Limeport PA, Lower Saucon PA, Neffs PA, Orefield PA, Summit Lawn PA, Vera Cruz PA, West Catasauqua PA, Wilson Borough PA, Zionsville PA.

If your area is not listed, our DJs and fun photo studio photo booth is available by counties: Lehigh, Northampton, Berks, Bucks, Carbon, Chester, Luzerne, Monroe, Montgomery, Philadelphia, and Pike.

Additionally our disc jockeys and Photo Booth services are available to the Phillipsburg, Alpha, Alexandria Township, Holland Township, Clinton and Atlantic County New Jersey areas. If your area is not listed look at our travel page or use our contact section from our menu.


Customer Testimonials
DJ Entertainment At It's BEST!
Frequently asked DJ & Photo Booth service questions
Q - Do we have a contract with your DJ and / or Photo Booth services?

A - Yes.
Q - Do you have insurance?

A - Yes.
Q - What type of payments do you accept?

A - We accept cash, check, & major credit cards.
Q - Do you offer a photo booth?

A - Yes. We offer an open air style with digital copies, NO Prints. See Photo Booth
Q - What kind of music do you play?

A - We all the best music that fills the dance floor, radio edits (Clean Version) to the BIG songs of the days gone by.See DJ's Top Music Resources
Q - Can I make song suggestions and / or make my own playlist?

A - You are welcome to make song suggestions or make a playlist. Remember due to time restraints, consider song suggestions to a limit of gotta hear.
Q - What type of lighting do you offer?

A - From standard to lazer. We also offer a disco ball, LED video & projection screens set ups
Q - Do you have more DJ reviews??

A - es. See more DJ Reviews here
Q - Is it important to speak to someone about my event?

A - It is HIGHLY recommend to have at the very least a phone consult on any important event you are planning.
DJs!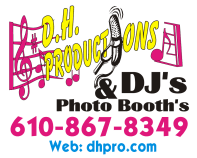 DJ Wedding & Party Packages here
Photo Booth!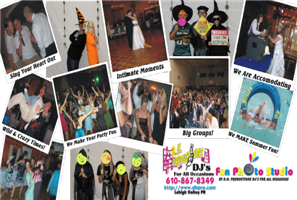 Photo Booth Details here.
Your DJ Social Media Hook Up!
☆ Check out our videos on Youtube
☆ Follow us on Twitter
☆ Join us on Linkedin:
Dan Wade / Heather Lynne
☆ Like us on Facebook: Facebook

D.H. Productions DJs For All Occasions
Your DJ Connection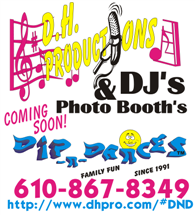 Join us over the summer months
we will be at area pools poolside for
* Dip-N-Dance ™ a registered trademark of
D.H. Productions.
find dates and updates here.
See our other upcoming events or
if you have any questions
use our contact section from our menu.
To view ad image click here.

Year In Review
A blast from the past or a reflection of last year either way, thank you for allowing us to entertain all of you. You are what makes us work to be the best DJs. Thank you!
Year In Review 2020
Year In Review 2019
Year In Review 2018
Year In Review 2017
Year In Review 2016
Year In Review 2015
Year In Review 2014
Year In Review 2013

DJ For Non-Profit!
Need assistance for your Non-Profit Organization K Walk / Runs, Fund-raisers / Non-Profits, Dances? We're here to help, see our
Non-Profit Organization
page for more details.
DJ Vs. DIY Wedding
Let's face it plenty of us watch the DIY network for the advantages of doing it ourselves. We met a mother who wanted to give her son and future daughter in-law the best wedding they could on a budget.
Upon her journey of DIY wedding planning she called us asking a few questions resulting in us taking an objective look at DIY weddings. This DIY video features such things as Quebbie DJ in a Box Music system courtesy of Leiser's Rentals See a DIY wedding video here

DJ Halloween Dance Party
D.H. Productions Djs For All Occasions Weddings, sweet 16's, carnivals, festivals, schools & pools we have you covered with awesome entertainment for all ages. Contact D.H. Productions Djs For All Occasions for a free, no obligation consultation.
Tenant Appreciation with a dj
♪ Tenant Appreciation Party
Friday August 11 2023